All the units that make up the Division of Undergraduate Education (VCUE) are engaged in work that supports academic access and success for all students, including those who have been traditionally marginalized or under-represented. The Division also aims to be an inclusive, equitable environment in which all staff are supported in their work and their professional growth.
VCUE Equity & Inclusion Planning and Implementation
A VCUE Equity & Inclusion Strategic Plan Working Group was established in 2013. After a 15-month process of research, surveying, assessment, dialogue, and reflection, the Working Group produced a 2015 report with recommendations for how VCUE can more thoroughly integrate the values of equity, inclusion and diversity into its community, programs, and work processes.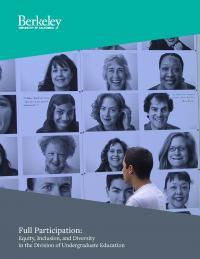 Starting in 2015, staff from various units across the Division have served on the VCUE Equity & Inclusion Implementation Team, with the charge of moving forward the recommendations in the report.
In 2018-19, the Implementation Team is currently focused on the issue of professional development and the role that managers and supervisors play in making it accessible to all staff. To support the goals of increased professional development opportunities for staff and fostering a greater sense of belonging, the Implementation Team organizes the VCUE Staff Summit, a special event that brings staff and leaders together from across the Division.
We invite you to contact the implementation team with any questions or concerns, or if you are interested in becoming involved with the Team.